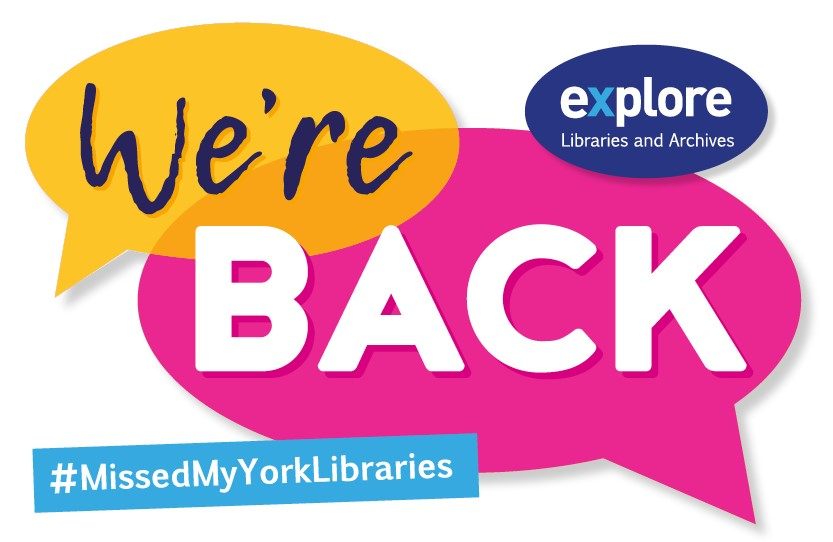 We've missed you! We're very happy to announce that we are back from 6 July, but things will look a little different for a while. From some of our libraries you will be able to:
Libraries These libraries are now open Tuesday to Saturday for pre-booked visits.
York
Acomb
Clifton
Tang Hall
Mobile library
New Earswick library is open too from Tuesday 4 August.
Cafes
Explore's brand new café in Hungate opened for the first time on 7 July and our cafes at Rowntree Park and Homestead Park are also open for drinks and snacks to take away and enjoy outside.
Your Safety
All our venues have safety measures in place to protect customers and staff.
We'd love to know how you missed us.
Please answer three quick questions and help us find out what matters to you.
Frequently Asked Questions
Will I need to wear a face covering to use the library/reading cafe?
From 24 July, following government advice for shops, we will be asking all our customers to wear a facemask for the duration of their visit. You'll need a face covering when collecting books through the click and collect service or while using public PCs. Face coverings will not be required when using our reading cafes. Please come prepared with your face covering as you will not be able to use library services without one.
It's simple to borrow books using click and collect. You can collect books from Acomb, Clifton, York, Tang Hall, New Earswick and the Mobile Library. Click and collect will be available from 7 July.
Reserve your books in the usual way using the online catalogue, or by contacting your nearest open library (from 6 July onwards) OR fill in one of our adult lucky dip forms or children's lucky dip forms and we'll choose up to 15 books based on your taste and preferences.
When your books are ready we'll phone you and arrange a time for you to collect them.
Will there be a charge for reservations?
There will be no charge for using click and collect.
I'm in the waiting list for some books, but my normal pickup library isn't open yet
If you're happy to wait until your normal library is open later in the year you don't need to do anything, you will stay on the waiting list. If you're keen to get the book as soon as it's available, you need to change your pickup library to one of the open libraries. You can do this yourself on your account on the reservations tab, or you can contact us.
How do I return books?
You will need to contact your preferred open library by phone or email to arrange a time to drop off your books – you can find the details on our website. We are happy to accept returns and all existing and new loans will have a due date of 30 September.
Can I use a public computer/printer?
Computers and printing are available for pre-booked slots up to 7 days in advance. You are able to book online or from 7 July contact your nearest open library by phone or email.
My York Card or Library Card has expired – how do I get a new one?
All expired cards have been extended until 1 September. York Card partner attractions have been asked to accept cards up to 3 months beyond the printed due date. To buy a York Card during July and August please contact your nearest open library.
Is the Archives and Local History Service open?
During July and August a remote enquiry service will be available by email only. Please be aware that our response times may take longer than usual. The in-depth Paid Research Service will not be available during this time.
Can I hire a meeting room?
Meeting rooms are not available for hire in July and August.
When can I browse the books again?
From 7 September we will reopen all libraries, with reduced opening hours and social distancing in place.
What safety measures have you put in place?
Government guidelines require us to implement a number of new health and safety practices in our libraries and cafes. Here are some of the changes we have made to keep you and our staff safe now and when we re-open fully.
All returned books will be left in a decontamination zone for 72 hours. When you search for a book on a library catalogue, this will show in the location field as 'in quarantine' for those books that have just been returned. You can still request a book at this point but it will only be supplied to you after the quarantine period has ended. We've installed hand sanitizer stations at the entrances and exits of all our buildings.
We have social distancing measures in place and signs up to remind people to keep apart. We've re-spaced public computers to enable social distancing.
We've set up cleaning zones for you to clean screens and equipment before use.
We'll have systems inside and outside our buildings to ensure safe queuing and social distancing.
We'll encourage cashless payments wherever possible.
We've introduced more frequent cleaning in cafés and toilets.
All buildings and spaces will have a maximum number allowed in at one time.
We've introduced sneeze screens on our reception desks
You can read our detailed risk assessments for re-opening libraries and cafes.
You opened too early it's still not safe / Why didn't you just reopen everything as normal on 6 July?
We made our decisions based on government guidance and on the experience of international library services who are further along the post lock-down road than the UK. We have also shared learning and plans with other UK librarians, and sectors such as retail and education.
We know that many people are dependent on libraries for many reasons, such as computer access and learning needs, and we have a duty to support public access to these services.
All our recovery plans are subject to ongoing revision and review.
Is your Home Library Service still running?
Our Home Library Service will be slightly different from July 2020 to the end of the year as we are not able to enter people's homes, but we are able to reserve and select books for you and arrange to have them delivered to your doorstep at a pre-arranged time. Find out more information about the Home Library Service.
Can I donate my unwanted books to the library?
At present we are unable to accept any donations of books that are not new as we don't have the space or staff capacity to quarantine them and add them to stock. Watch this space though – if you have had a good sort out of your books during lockdown we would love the ones in perfect condition, we just need you to hold onto them for a bit longer. Here is a link to information about donating books.
Can we borrow books for our reading group again?
Please see our reading groups page for full information.
I'm in a reading group and we have some books reserved, when can I collect them?
Please see our reading groups page for full information.
Are reading cafes part of the Eat Out to Help Out scheme?
Yes, this discount scheme will be available at Hungate Reading Cafe and Rowntree Park Reading Cafe from 3 to 31 August 2020. See this post about how it will work.
How do I get replacement batteries for my hearing aid?
You can still pick up replacement hearing aid batteries from Acomb, York and Tang Hall libraries, but you will need to contact your preferred library by phone or email to arrange a time to collect them. Also, when you contact us, please can you let us know which type of batteries you require.