The board of directors oversees all our work, monitors our performance and helps us to set our yearly plans and budgets. There are seven directors at any one time. Directors commit to attend meetings every six weeks and may also chair an advisory group. Each member of the board has a duty and responsibility to protect the interests of Explore and ensure the organisation is well run. Members of the board are not to represent their own interests or that of any other organisation they have a role in.

 James Henderson – Chair
My name is James Henderson and I'm chair of the board of York Explore Libraries and Archives and my day job is Head of Marketing Performance at Aviva. I'm 36 years old and I live in York with my wife Natasha and our 3 year-old son Rufus.  I'm absolutely passionate about libraries – not just to provide access to information, but as essential, safe places where everyone is welcome.  I've been involved in the evolution of York Explore for about 6 years and as Chair my role, along with the rest of the Board, is to make sure we have the right level of governance, control and direction to meet the objectives of both the organization and the community.
I believe there can be a bright future for libraries and archives in York, and in an era when libraries are more at risk than ever I also believe the service will grow and flourish through this approach. I would encourage all current and future library and archive users to get involved with us and help shape our future direction by becoming members of the society. More than this however, whether it's the fantastic new City Archive, first-class cafe and family spaces, or an ever-improving collection of digital and traditional literature, our aim is to make Explore the centre of each community.

Fiona Williams – Chief Executive
I am proud to be representing our amazing staff who have worked so hard to set up a new organisation that will not only maintain the services currently available in the city, but also be able to improve and expand them. We now have the freedom to make our own decisions about our future.This is a real opportunity to secure the longer term future of the greatly valued libraries and archives in York.
John Carlill  – Non-executive Director
John brings extensive business and commercial experience. Now retired, he carries out a number of local volunteer roles including at St Leonard's Hospice and the Yorkshire Regiment archives. With a keen interest in family and local history John is particularly interested to help broaden the interest and access to the York archives. The archive and local history collections hold some fantastic treasures that show how York has developed over the centuries. These records trace the history of our local communities, and provide some fascinating insights to our past and to the events which have created today's York.
Natasha Guest – Community Director
I am a local solicitor who has lived in York for over 17 years.  When not at work I like to spend time exploring the cultural highlights of this super city with my family! Over the past few years I have become increasingly aware of the fantastic job that Fiona and her team are doing in a time when libraries throughout the country are facing closure.  I have therefore joined the board to help push York Explore further forward, creating a cultural hub whilst at the same time maintaining its all-important 'space for all' ethos.
Robert Powell – Community Director
Robert is a well known figure on York's cultural scene – a writer, curator, and cultural manager with over 40 years experience in the arts, built environment, education, and media in England, Canada and Scotland.  From 1997-2015 he was Director of Beam an arts and education company based in Wakefield.  In 2017 he was made an Honorary Fellow of the Royal Institute of British Architects (RIBA). As a creative writer he has published four books of poetry and his latest collection Riverain (2018) will be featured in the York Literature Festival programme in March.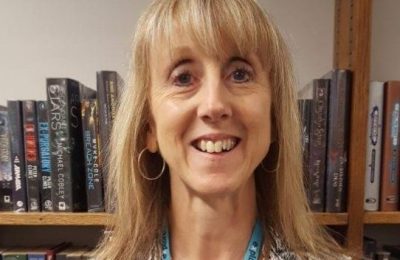 Joanne Shanks – Staff Director
My name is Joanne Shanks and I am proud to be new staff director for all York Libraries. I currently work at York Explore part-time and have been employed within the library service for about 15 years. I love books and I always knew I would make them my career. I have worked in bookshops and then in the library service all my working life. I am passionate about libraries and feel they should be the cultural hub of all communities, a welcoming place, open to everyone and anyone, a safe haven for all our customers both young and old. In my spare time I can be found wandering the street of York as a Health Walk leader and I love going away for long weekends around the British Isles. As an elected director I was voted in by the Staff Members.