Our story
Explore provides the public library service for York and manages the City Archive. We aim to give everyone somewhere to dream, to discover and to experiment. We help people get access to opportunities that spark imaginations. We love to share the joy of reading with adults and children. Our network of libraries and reading cafes help people to meet up and connect more deeply with the place they live in.
Explore came into being in 2014 as a mutual society with charitable status, jointly owned by staff and community members.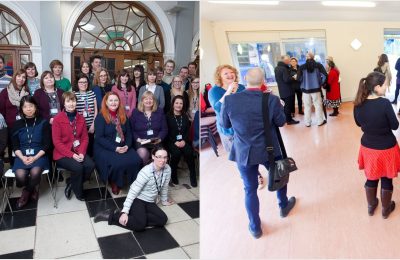 The society was the first of its kind in the UK and its creation was led by its own staff. Since 2014 several other public libraries have adopted our model and we work closely with them to develop our knowledge and practice.
We are registered with the Financial Conduct Authority and are recognised as a charity by HMRC. Being a community benefit society with charitable status means we can save money and access different types of funding which were not available when we were part of the council.
We are committed to improving the City Archive as well as keeping all York's 14 libraries, two reading cafes and the mobile library open, with paid staff in every one.We are managed by a Chief Executive and a board of directors. We have a set of rules which set out what Explore was set up to do.
We have a contract with City of York council to run the public libraries and archives in York. The current contract period began in May 2014 and ends on 31 March 2019.
About the Board
Our board of directors oversees all our work, monitors our performance and helps us to set our yearly plans and budgets. There are seven directors at any one time. Two places on the board are available for directors elected by the community members. Directors commit to attend meetings every six weeks and may also chair an advisory group. Each member of the board has a duty and responsibility to protect the interests of Explore and ensure the organisation is well run. Members of the board are not to represent their own interests or that of any other organisation they have a role in.
About Advisory Groups
Advisory Groups discuss current challenges and come up with solutions, as well as suggesting ideas for new and improved services which are then considered by the board and management teams.
Here is our latest balance sheet for information
Enterprise balance sheet
Here is the latest Auditor's Report
Explore Management Team
Fiona Williams (pictured)
Chief Executive
fiona.williams@exploreyork.org.uk
Sarah Garbacz
Chief Operating Officer
sarah.garbacz@exploreyork.org.uk
Barbara Swinn
York Explore Manager
barbara.swinn@exploreyork.org.uk