Tel: 01904 552 660
Opening Times
The library service in Haxby is delivered by our temporary mobile library. We are open five days a week, in four different locations for full days and a half-day on Saturday. We stop at the same place on the same day every week so that you know when to expect us.
Opening Times
Ethel Ward Playing Field                    Monday          9.30am – 6.30pm
Haxby Memorial Hall                         Tuesday          9.30am –5.00pm
Wigginton Recreation Hall                 Wednesday    9.30am –5.00pm
Closed                                                 Thursday
Oaken Grove Community Centre       Friday              9.30am –5.00pm
Oaken Grove Community Centre       Saturday         9.30am – 12.30pm
Planned Closures
We will open as normal on 10 January 2020.
Friday 31 January 2020 to Friday 7 February 2020 service not running.
Wednesday 20 May 2020 closed 9am – 2pm
Wednesday 14 October 2020 closed 9am – 2pm
Wednesday 9 December 2020 closed all day
New Haxby library due to open now Autumn 2020.
We've been busy working behind the scenes to draw up plans to extend the current Scout HQ next to Ethel Ward Playing Fields to create a fabulous new community space which includes a reading cafe, library, meeting room space and changing places facility as well as continuing to be a fantastic space for scout activity. The refurbishment work will be funded by City of York Council.
The next steps begin in winter of this year, with the agreed plans submitted for planning approval. Tendering will begin early 2020 with the new library taking shape over the summer, and hopefully opening in Autumn 2020.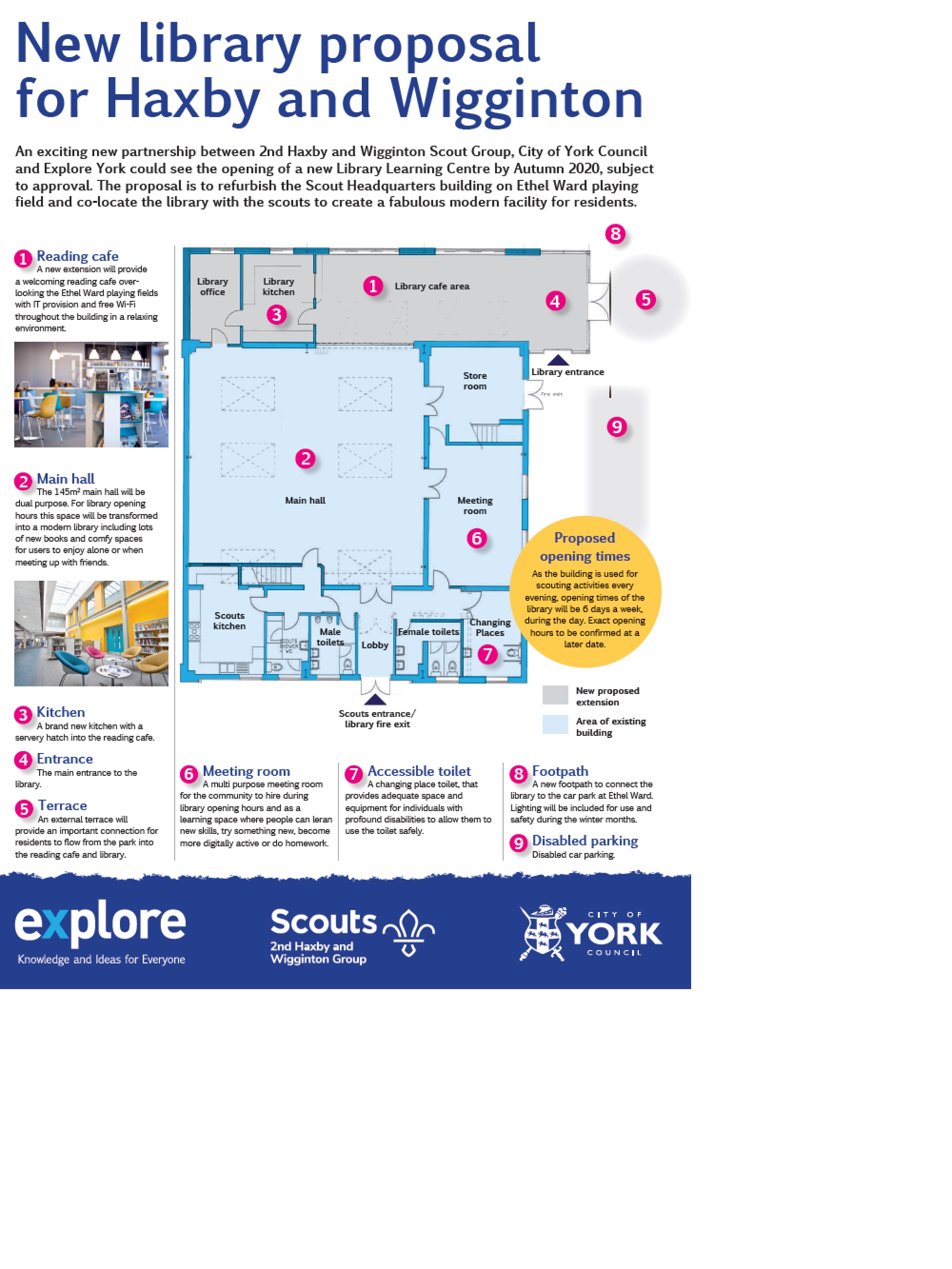 Facilities
Fiction and non-fiction for children, young people and adults
Large print books and audiobooks
Books can be returned to any library in York or renewed online
Self-service technology
Access to PCs is available at any library in York. The closest library to Haxby is New Earswick
Information about local services
Adult Education course information
Boccia Club
Weekly storytimes for under 5's
Haxby Book chain
Car parking
Getting there
The mobile library stops at all venues in car parks so parking is available at each site including disabled spaces. Haxby Explore Library is served by buses 20, 13 and 1 from the city centre.