Who can join the library?
You are very welcome to become a member of Explore York Libraries. There are no age limits – anyone from one day old to 120+ years old can join.
What are York Cards?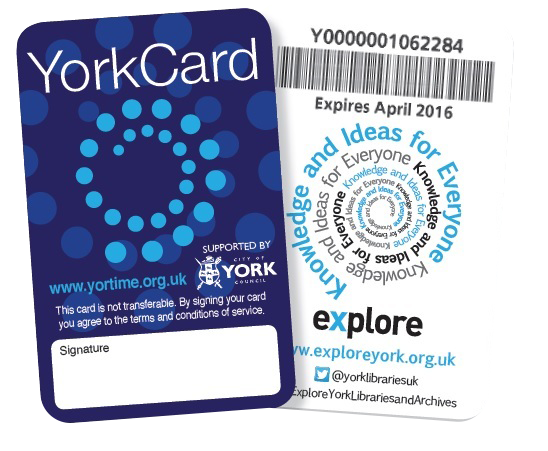 If you live or work within the York area you are entitled to have a York Card, which means that your library card will also entitle you to residents' discounts at leisure facilities across York. There is a £6 charge for YorkCards for adult residents or £10 for non-residents who work in the city.  More information is available on the York Cards page.  If you prefer you may choose to have a library card which is free rather than the York Card.
Why should I join?
Anybody can come into the libraries without joining to find some information, ask a question, read newspapers or find a comfortable space to read or study. If you join you can also:
borrow fiction or information books, audiobooks or ebooks
use the library computers for free
reserve and renew items online using the library catalogue
use online resources such as the Encyclopaedia Britannica or Dictionary of National Biography
How do I join?
You can join right now using the online joining form, or you can simply pop in to any of our libraries at any time and join in person instead.
In fact, even if you submit an online joining form, you will still need to go in to a branch to collect your card.
However, joining online enables you to:
speed up the process by ensuring we have all your details in advance.
get an automatic temporary library card number, which is valid for 30 days and enables you use online library services to reserve books and access information (however, please note that you will only be able to download ebooks and audiobooks once you've got your full card)
Collecting your card
After submitting the online form, please visit your local library with a note of your temporary card number within 30 days to pick up your library card.
Your card gives you access to services that are not available to temporary accounts, such as borrowing books and ebooks.
If you're a York resident or work in the city, you can pay for your library card to be upgraded to a YorkCard, which gives you a range of discounts across the city.
Your PIN
The online form asks you to provide a four-digit PIN. If you misplace or forget it, library staff will be happy to look it up for you.
Existing members who have forgotten their PIN should use the forgot your PIN link when logging on instead.