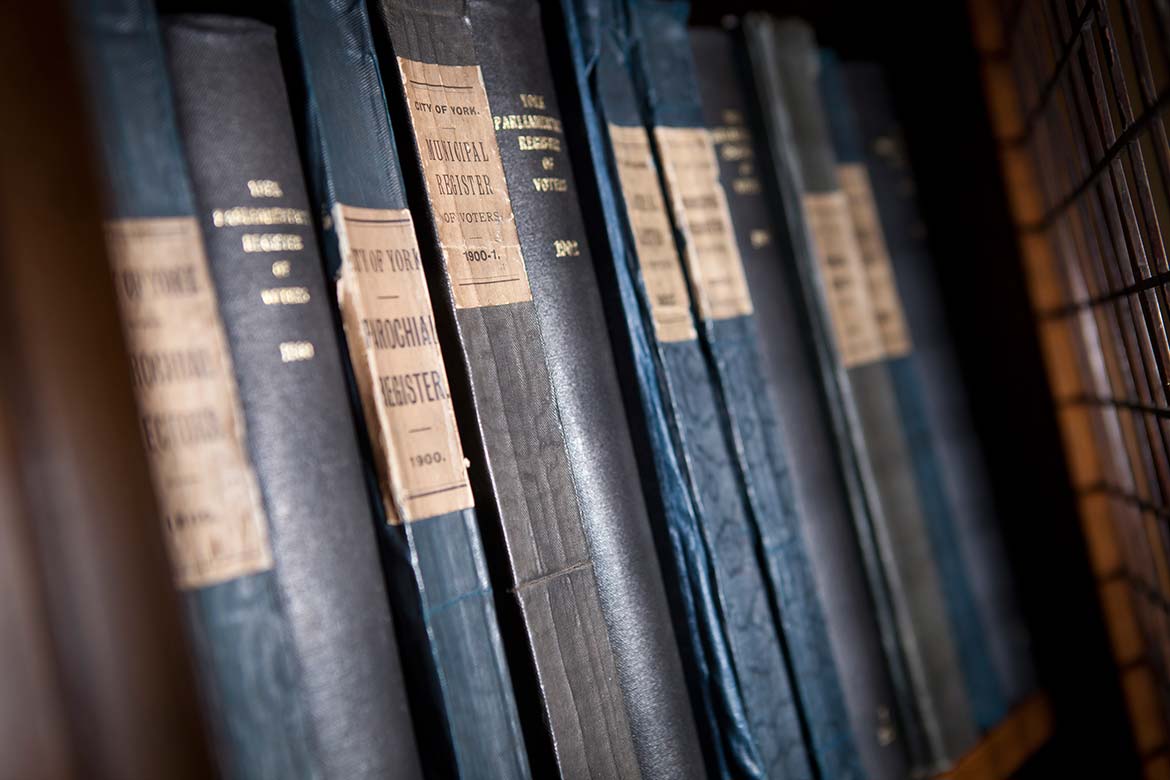 To search our archive, enter your search term here
Our collection contains thousands of unique documents, plans and photographs that tell the story of 800 years of York's history.  Our oldest document dates from 1155, the most recent from 2012.
We also look after over 68,000 books, historic newspapers and maps about the city and surrounding area.
Improving access
We are currently improving access to our archives and local history collections by developing and adding to our online catalogue. As a result, not all our holdings are available to the public at the moment.
We are committed to improving access to our collections, and this year published our second annual Access Plan.  This plan is updated quarterly.
If you have a particular research topic in mind, you can search our collections using the links below to see what's currently available.
You can also get a general view of our holdings through our community collections and First World War Pinterest boards.
More collections will be made available each month, so please check the catalogue regularly or follow us on Twitter, Facebook or the blog for the latest information.
Civic archive
Documents dating back to 1155 from City of York Council and its predecessors are held in the civic archive. You can find out more about our currently accessible civic collections by using the search box at the top of our catalogue website page. Change 'Full catalogue search' to 'Archives' and then search for Y/*. Alternatively, you can browse the available collections by alphabetical list.
Community collections
Our community collections include personal and family papers as well as the records of York-based charities, businesses and community groups. You can browse by  alphabetical list or theme.
Our Voices of the Archives brochure provides a journey through some of our community archives, as told through the words of our volunteers, researchers and community partners.
York Images
We have thousands of photographs of York people, places and events, which can be invaluable if you're researching your family history or local area. Around 3,500 are currently available to view through our searchable database Explore York Images.
Details of how to order copies are available on the website. And if you know anything interesting about an image, please get in touch.

Poppleton History Society
Poppleton History Society has made their archive accessible to the public for the first time as part of the Heritage Lottery funded York: Gateway to History project. Some highlights from the collection include:
Parish surveys and censuses from the 19th and 20th Centuries
Photographs from the Poppleton History Society Annual Banquet
Report on an archaeological dig in Poppleton for Channel 4's Time Team Programme
A variety of records on the history of local buildings, monuments, villages, schools and people of Poppleton
The archive is available at Poppleton Library during usual opening hours. See a full list of items