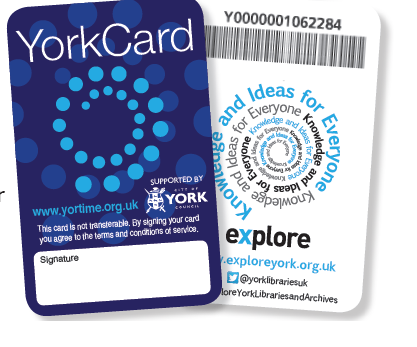 YorkCard Offers
Attractions included in the YorkCard discounts giving you a potential saving of at least £50 over the year (based on one visit only).

Barley Hall 20% off entry fee
Can You Escape York?  20% off at  for York card holders. When booking online or over the phone please quote XYORK20 and bring your card with you to your game.
City Cruises York  Save up to £3 per person on daytime sightseeing with City Cruises York
DiG 20% off entry fee
Explore Libraries and Archives Discounted entry to author events and talks
Fairfax House 20% off normal ticket rate
Henry VII Experience 20% off entry fee
Jorvik Viking Centre 20% off entry fee
Merchant Adventurers Hall 50% off entry fee
Mountain Goat Tours  20% discount off tours (including friends and family of YorkCard holders). To receive the discount just add the code Yorkcard20 to the discount code section when booking.
Richard III Experience 20% off entry fee.
Roman Bath Museum 50% off entry fee.
York Army Museum 50% discount on admission prices.
York Chocolate Story 1/3 off entry fee on Sundays.
York Mansion House 50% discount on admission prices.
York Minster Free entry to Minster (excludes tower).
York Museums Trust (the Yorkshire Museum & Gardens, York Art Gallery & York Castle Museum) 20% off a day ticket at any site and 40% off an annual pass.
York Sport 20% off selected sports activities.
York Visitor Information Centre 10% off merchandise.
Frequently Asked Questions
Where can I buy/renew my YorkCard?
You can buy/renew your card at any Explore Library. You can pay with a credit card at the large Explore Centres, but it's cash only at the smaller libraries.
How long do the York Cards last?
The current York Cards will expire 12 months from the month in which you purchase them.
How much do the cards cost?
The York Card is £6 for adult residents or £10 for people who work in York, but are not resident in the city. The York Card is free to children and young people up to the age of 18.
The York card is free if you are in receipt of any of the following means tested benefits: Universal Credit (without earnings), Employment Support Allowance, Income Support, Pension Credit (Guarantee credit), Carers Allowance, Council Tax Support, Housing Benefit, Widowed Parents Allowance. The York Card is also free if you are in receipt of Personal Independence Payment, Disability Living Allowance or Attendance Allowance. You just need to show library staff your awarding letter from DWP or CYC.
If you prefer you may choose to have a library card which is free, rather than the York Card.
How do I get my York Card
Your York Card will be issued to you at any Explore Library as part of your library card. If you need to pay for your card you can use a credit card at the large Explore Centres, but it's cash only at the smaller libraries.
Joining the library is very easy to do at any branch – just come in and join up.  If you wish, you can speed up the process in the library by submitting this online joining form in advance, so that we've already captured your details, but this isn't necessary and please be aware that you'll still need to call in to the library to actually get the card.
Is it a family card?
No, everybody in your household needs their own card.
Valid York Cards
Valid York Cards have a printed expiry date on them.
Conditions
There are a few simple rules to ensure that the scheme isn't abused. Please read them before using your York Card.
A York Card may only be used by the person to whom it is issued. It must be signed.
You must show your York Card to obtain the discounted rates – one discount per card presented.
York Card discounts are normally given for facilities and events on parks or on the strays.
Tickets, entry and use of facilities are subject to availability.
Charges are subject to change without notice.
You may be asked for additional proof of identity.
£6 York Cards are available to residents of the City of York Council area.
£10 York cards are available for people who work in the City of Council area, but are not residents.
Our partners reserve the right to place conditions on the discounts offered; for their terms and conditions please see the respective websites.
All offers are subject to change. Please see this website for the latest updates.