National Poetry Day 2018: Pop-up poet in residence at Rowntree Park Reading Cafe
Come along to our informal Poetry afternoon and enjoy, discover and share poetry this National Poetry Day 4 October 2018. Meet and hear from Leeds poet Hannah Stone and share the poetry which inspires you.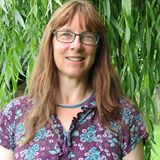 Hannah Stone has been widely anthologized and published on ezines and in The North, Dreamcatcher and other journals and collaborations. Solo publications include 'Lodestone' (Stairwell Books, York, 2016) and 'Missing Miles' (Indigo Dreams 2017). She collaborates with poets, composers and broadcasters. In other lives, she is a hillwalker, forager, singer and teacher.