Big City Read Walk: York Cemetery History and Gothic Monuments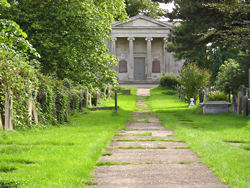 Explore the history of this fascinating garden of death with a 90 minute guided walk discovering interesting monuments and people, followed by tea and biscuits.
Meet at the Cemetery Chapel at 1:45pm for kitting up with the audio receivers as the walk will start at 2pm. Stout footwear is recommended. The majority of the walk is wheelchair accessible, although there are some uneven footpaths. A short section of the walk will include the catacombs with steps but the audio receivers will enable people to hear the description if they are not able to use the steps.
Please bring assistance dogs only.
There is limited parking in the cemetery.
Please make a donation of £3 per adult and £1 per child after the walk.
No need to book, just arrive by 1:45pm
Related Events