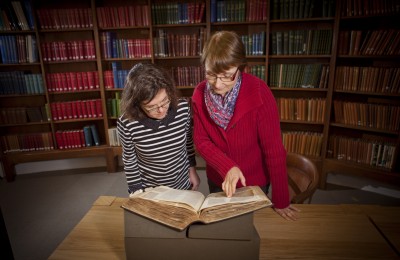 Monday: 9.30am – 5.00pm
Tuesday: 9.30am – 5.00pm
Wednesday: 9.30am – 5.00pm
Thursday: Closed
Friday: Closed
Saturday: 9.30am – 4.00pm
Sunday: Closed
You can view archives in the Archives Reading Room. We are still in the process of cataloguing many of our collections, and as a result not all of them are currently available to the public. You can find out more about what you can see at the moment on our collections page or by searching our archives catalogue.
You can make an appointment to view our archives by emailing us or telephoning Archives and Local History on 01904 552800. If you know what you would like to see please let us know and we can make sure it is available for you when you arrive. If you want to look at other archives during your visit you can do so – we make hourly trips to the archives strongroom from 10.00am until 4.00pm on weekdays, and 10.00am until 3.00pm on Saturdays.
The Archives Reading Room also has a number of materials on open access which you do not need to request in advance. These include historical journals, published transcripts of parish registers, copies of City of York Council minutes from 1886 to 2010 and electoral registers. If you would like to see electoral registers which are less than ten years old these are available to request from the strongroom and you can only see them under supervision.
What to expect
Many items in our collection are irreplaceable and fragile.  We ask all visitors to abide by the same guidelines to protect the collections for future generations:
Lockers are provided for coats and bags, as these are not allowed in the reading room.
Food and drink is not permitted in Archives and Local History.  You may bring water to drink elsewhere in the building but it should remain sealed whilst you are in Archives and Local History.
Please use pencils or a laptop to take notes when using books or documents.
Archives and Local History is a quiet study area. Please set your laptops and mobile phone to silent. We ask that you take calls elsewhere in the building.
Please handle all documents with care. We will show you how to use our book rests, weights
and stands. If you are unsure of how to use the material please just ask us.
Making a booking
To avoid disappointment, we strongly advise booking a desk if you want to visit our archives reading room. We accept bookings in person, by email or by telephone.
You can also pre-book our microfilm readers and two-hour slots on one of our public computers, which provide free access to Ancestry and the British Newspaper Archive.
If you bring your own laptop/tablet, you can still access both these resources for free through the library wifi.
Making copies
As we want to preserve our collections for future generations, we don't allow photocopying because the light can cause significant damage to books and documents over time.
We also don't allow handheld scanners or equipment that requires physical contact with the item being copied. We do, however, have digital book scanners that you can use.
Before taking a copy, you must buy a reprographics licence and complete a copyright declaration form.
You can copy images from our book scanners and microfilm readers to USB drives, which are available at the local history staff desk. You can also print from the microfilm readers.
You are welcome to use our book scanners to scan your own documents to a USB. Fees start from £10 for a day licence (unlimited number of copies). Please speak to a member of staff for further details.