We are here to support local community groups, societies and charities in setting up and managing their own archive collections.
To help you do this we have a series of resources which were designed as part of our Heritage Lottery Funded York: Gateway to History project. Everything has been created based on the feedback from York's community groups and covers cataloguing, storage and the digital environment.
Guidance booklet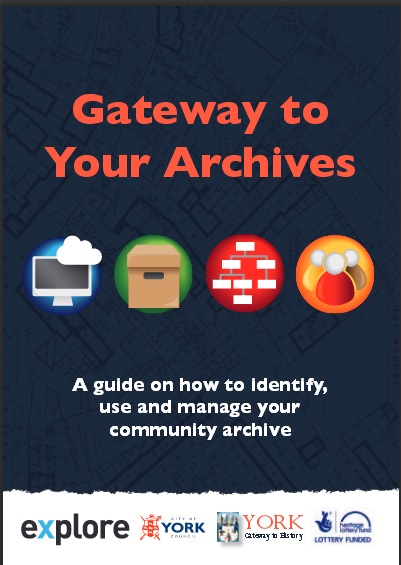 If you are looking for guidance on how to identify, manage and use your community archive, our Gateway to Your Archives guidance booklet has everything you need to get started.
You can also find hard copy versions of the guidance booklet at any of our Explore Libraries for reference use. At York Explore, in our Family History Room, we hold a selection of reference books which include further information about how to manage archive collections.
Films
We have also created a series of three training films based on the guidance:
Cataloguing Your Collection
See also the British Sign Language version of this film.
Storing Your Archives
See also the British Sign Language version.
Delving Into Digital
See also the British Sign Language version
Presentation
You can also view the presentation delivered as part of the Gateway to Your Archive workshops to which a total of 98 representatives from 52 different community groups attended during 2015.
Worksheets
In order to help you get started in managing your collections, the following worksheets are available for you to download and complete. They are provided as support to the guidance included in the booklet and films.
Delving into Digital worksheet
Thinking about where you will store your archive?
Have a go at our Build a Community Archive activity (plus see a case study from Wigginton Parish Council) and see if it's an option for your group.
Also, take a look at our Depositing Your Archives page for more information on how to deposit your collection with us.
Find out more
If you would like more information about managing your collection please contact us archives@exploreyork.org.uk